Information
Kaji International Patent Firm
* Office Name : Kaji International Patent Firm
* Postal Address : the SOHO 603, 2-7-4 Aomi, Koto-ku,
           Tokyo 135-0064, JAPAN
* Telephone No. : +81-3-6380-7833
* Facsimile No. : +81-3-6380-7834
* e-mail Address : info@kajipat.com
About Us
◆Message
We hope to make a contribution to the industrial society by assisting the stable growth of our client company.
Kaji International Patent Firm was established by Toshikazu Kaji in 2004.
Since the beginning, we have continuously provided our clients with our "precise", "accurate" and "definite" IP services. Our patent specifications are written to be reader-friendly, which makes it easier for the clients to check the documents and makes clear the scope of the rights. Moreover, definiteness of the scopes of the rights will prevent useless legal disputes, and as a result, that will be a great assistance for the clients' business developments. Many of our clients have acclaimed our high-quality documents and our fine-tuned services.
Once you commission a patent application to a patent agent, the relationship between you and your patent agent will last over the long term. Therefore, building a confidential relationship is more important than anything else. A patent attorney should assist the clients to develop a patent application to become a strong Intellectual Property right.
We are looking forward to working with you and will be glad to support your success with IP activities.
◆Our Services
We provide our splendid services for both domestic and global clients.
Support for acquisition of IP rights
(Patent, Utility Model, Design and Trademark)
Various types of Searches
Giving expert opinions
Consultancies in IP matters and other technical issues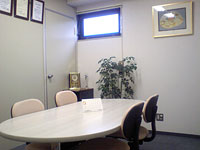 | | | |
| --- | --- | --- |
| | TOP | Our Staff |